Information About Scheduling
A
Private Hypnotherapy Appointment
With
Lynda Hilburn,
M.A., L.P.C., C.C.H.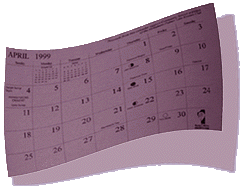 If you are in the Boulder/Denver, Colorado area, and wish to set up a hypnotherapy appointment with Lynda, you may reach
her office by calling 303.939.8832.
When you meet with Lynda, you will discover that hypnotherapy creates a deep physical and mental relaxation which allows us to communicate directly with the subconscious, bypassing the critical factor of our brains. Hypnosis is gentle, fast and very effective. It helps you to bring your life under control. Relaxation, improved stress management and increased self-awareness are automatic by-products of the process. Through hypnosis, you can find the roots to your problems and transform your life. Hypnotherapy is safe and gentle. You are always aware, you are always in charge.
The form of hypnotherapy Lynda teaches and practices is called "Imaginal Hypnotherapy," which is a natural extension of Transpersonal (beyond the personal ego) Psychology. It draws largely from Jungian Psychology, Gestalt, Psychosynthesis, Alchemical Hypnotherapy, Transpersonal Hypnotherapy, Ericksonian Hypnosis, various other traditional and contemporary systems of hypnotherapy and NLP.
It incorporates spiritual and shamanic practices and these disciplines blend to create a harmonious system of effective therapy. Imaginal Hypnotherapy allows entry into the deep, inner worlds where changes can take place and where the soul speaks through the language of the imagination. It is a process that helps us to recognize and accept the different and often opposing aspects of our personalities such as the "inner child" and "inner critic." Conflicts between these inner characters or "subpersonalities" account for many of our difficulties and problems. Hypnotherapy resolves these conflicts by connecting us to guidance from within, allowing us to achieve the highest levels of wellness and creativity.
Among other things, Lynda can help you:
Lose weight & change your body
resolve inner conflicts
relieve insomnia
reduce effects of stress
explore past lives
enhance relationships
heal your inner child
explore your future
uncover creativity
connect with inner guidance
awaken intuitive abilities
create prosperity
heal sexual, emotional & physical abuse
achieve life goals
increase self-esteem
change negative patterns
create new habits
increase well-being
awaken & unfold spiritually
heal & let go of the past
balance your inner male & female
discover your purpose
and create the life you want!
---
Contact Us:
SoulWorks Hypnotherapy Training School
P.O. Box 20443, Boulder, CO 80308
303.939.8832
swhypno@aol.com

[About the School] [Training Schedule] [Certified Hypnotherapists] [How to Enroll] [About the Instructor] [Scheduling a Session] [Professional Mentoring via E-Mail] [Testimonials]